By Ian MacAllen on Wednesday, February 9th, 2022 at 4:39 pm
As a kid, we regularly had tacos from an Ortega taco kit: hard shells, seasoning, and packets of taco sauce. The beef was not included. I refer to these as 1980s Taco Night. We ate tacos with shredded iceberg lettuce, chopped tomatoes, shredded cheddar cheese, and sour cream. On extra special nights, we also had had Tostitos chips and salsa. Nothing screams mid-90s quite like Tostito's brand packaging with the bright pink and aquamarine blue.
Today, hard tacos filled with ground beef flavored with "taco seasoning" packets taste like crunchy nostalgia. They are a rare treat in part because my wife doesn't share the same sentimentality. I could find them at El Cortez, a tiki themed bar a few blocks away serving All American Taco Night, a perfect replica of those 1980s-style tacos, but the bar shut down a few years ago. What I really liked about them as an adult was how simple they are to cook — and no doubt why my mother liked them when I was a kid. Sauté some ground beef, toss in the seasoning, and twenty minutes later dinner is on the table.
As a grown up, I mostly eat Mexican-style tacos. Bushwick, Brooklyn has a wide variety on offer. I know there's some guy from L.A. or Texas lurking out there ready to tell me how inferior Brooklyn tacos are. I accept your challenge.
First, I can't talk about Bushwick tacos without mentioning Tortilleria Mexicana Los Hermanos, the tortilla factory in the heart of hipster (bourgeois) Bushwick that now attracts European tourists and finance bros from Manhattan. These tacos are perfectly fine. I have to admit that a decade ago, they were one of my earlier experiences with Mexican-style street tacos. But they were less memorable than Taqueria El Fogon, a restaurant on Flushing Ave, or Mesa Azteca, taqueria that looks like it could be a movie set. These are all decent tacos, even if they are overhyped.
One of my favorite spots has since closed. Taqueria Izucar, named after the Puebla city Izucar de Matamoros, squeezed under the elevated tracks of the M. There was a counter and maybe two barstools, but they had big flavor. It had irregular hours, making it difficult to plan a trip. The tacos, wrapped in double white corn tortillas, were inexpensive but delicious. The taco to get here was the Suadero taco, a kind of smooth muscle beef flank that was also fried.
The alternative I went to the day I realized Taqueria Izucar had closed for good was Taquiera Acatlan, also under the elevated tracks. A woman in the window of the store spends her day pressing out fresh corn tortillas with the finesse and skill of a master craftsman. I haven't been back since the pandemic, but the beef tongue was quite good if memory serves correctly.
For the last year, a Taco Bite, a food truck has been parking nearby on Bushwick Avenue several nights week providing late night service for patrons of the popular warehouse district clubs. The trucks has a standard taco menu too with the expected carnitas and al pastor and chorizo, but I'm more likely to have a Cemitas or Torta sandwich. The truck has never disappointed me.
The newer taco restaurants are fancier. They appeal to a younger, hipper crowd. I order from them because they offer delivery and are close enough the tacos arrive hot, most of the time. Our go-to delivery since the pandemic started has been El Santo, on Flushing, or Taco Edition, on Grand Street. Both offer standards like al pastor, bistec, chorizo, carnitas — and typically I would order two or three of those. I do also experiment with goat, lamb, tongue, fish, and shrimp, but tacos are a kind of comfort food, and sometimes you just want familiarity.
Luckily, tacos are a low stakes game. They aren't expensive, and most of the time I'm order more than one. More recently, I've been ordering chicken tinga tacos. Tinga tacos are spicy, pulled chicken.
Chicken tinga's main ingredients are tomatoes, chipotle peppers in adobo, and onions. There are some variations on this depending on the region, and different spices to adjust the flavor. Tinga originates around Puebla, Mexico with the first record recipes from the early 19th century. However, the combination of ingredients likely dates back long before the arrival of Europeans.
I finally decided to make my own.
There were a few reasons I wanted to try my hand at chicken tinga tacos. I'm much more likely to make carnitas style tacos, but to do it properly requires hours of braising. And usually, braising a big piece of pork yields a huge amount of shredded meat. That's great for a party, but not great for a pandemic. Experimenting with tinga tacos seemed like a good idea since I could better control duration and volume.
I consulted a few recipes from Food & Wine, Gimme Some Oven, and Punch of Yum. Mostly I wanted to confirm the rough ratios of ingredients and the suggested spices–-in this case, cumin and oregano. None of the ingredients were difficult to come by, and after a quick trip to the grocery store, I was ready to go.
I started by poaching a couple of chicken breasts. I hadn't shredded poach chicken before last week when I was making Mala chicken salad using an Omsom sauce packet I had received for Christmas. I liked the texture of the poached, shredded chicken, and how quickly the breasts cooked. It seemed perfect for making tinga quickly.
After putting the chicken in its hot bath, I set about pickling some red onions using lime juice, garlic, red wine vinegar, apple cider vinegar, and a few pieces of hot pepper. These were fast pickles, but there are leftovers getting more pickled right now, and I can't wait to to use them on something else.
Then I set out to the sauce. Weeknight meals are a sloppy, quick affair these days, squeezed in after baby's bedtime. I chopped up the remains of the red onion, threw in some garlic, two chipotle peppers, the cumin, oregano, and tomatoes and blended them with a wand mixer. Wand mixers are notoriously dangerous, and honestly it was my first time using one. It kind of felt like holding an industrial strength vibrator with deadly blades spinning on the bottom like some kind of German fetish toy. Safe word: spicy.
The wand mixer went pretty well until the bulky wand tipped over the lightweight plastic jar spilling half the sauce. A huge red mess ensued covering the countertop, baby food maker, dish sponge, coffee pot, electric tea kettle — the whole place looked like a murder scene. Luckily I had reserved some of the tomatoes and chipotle peppers, but the spill had thrown off the resulting ratios.
After remaking the sauce and blending it all together, I added it to our big pot with some chicken stock. It's worth noting that the recipes I consulted suggested starting the garlic and onion in the oil before blending it all together. However, I was going for speed, but to be honest I don't think it had a huge impact on flavor. On the other hand, maybe I wouldn't have spilled half the sauce with the wand mixer if it was all in the giant dutch oven.
As the sauce simmered, I took the poached chicken out of the hot chicken water and shredded it with two forks. Once it was separated and stringy, I tossed this into the simmering sauce with a bit more stock. In about ten minutes most of the liquid boiled off into a thicker tinga sauce.
I also found some time to make a bowl of guacamole, served alongside the tacos. I had cotija cheese for garnish. I cooked my white flour tortillas and was ready to go.
In the end, cooking my own chicken tinga proved far easier than it ever was in my mind. There was no slow braise or complicated measuring. Other than spilling the sauce, preparing the tinga was a straight forward process, not all that more complicated than opening up an Ortega brand taco seasoning pack and pouring it over some ground beef.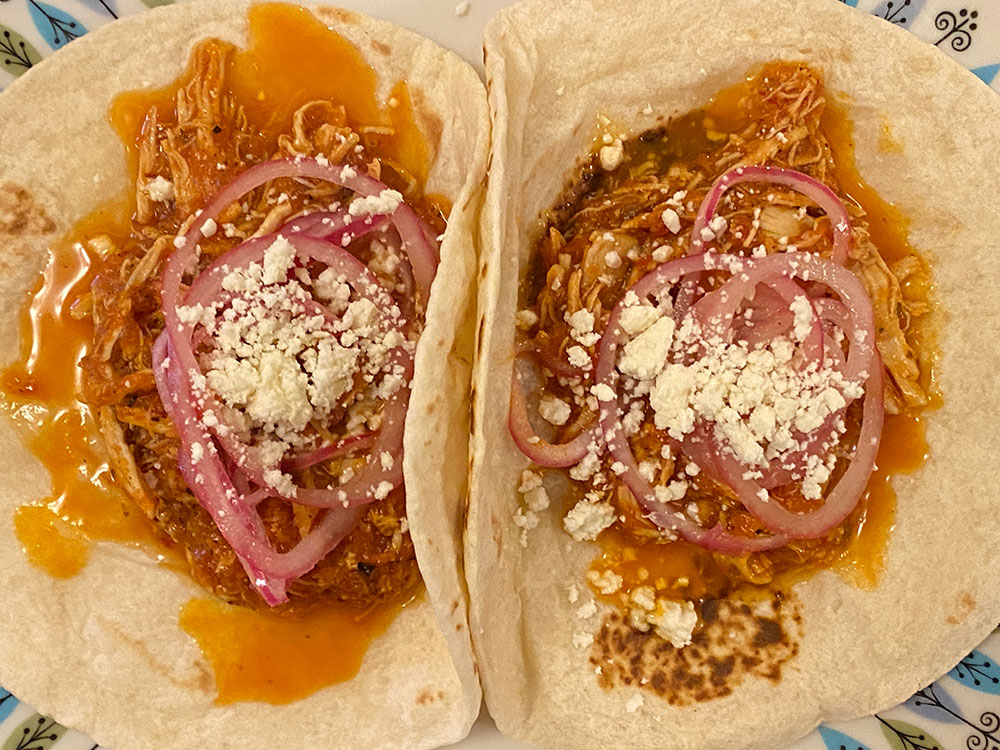 ---