By Ian MacAllen on Sunday, April 23rd, 2023 at 4:29 am
I was walking around Williamsburg just after the crack of dawn when I first saw Chino Grande's facade under renovation. It was so early I was the only person on the street. It wasn't because I had been out all night partying, but instead because the then six-month-old newborn had woken up at some awful hour and the best way of entertaining him was pushing him around in a stroller.
The restaurant had once been home to Walter Foods, a cross between a diner and neighborhood bar. It wasn't the kind of place anyone went out of their way to eat at, but it was a very serviable neighborhood joint – but not one that would survive the pandemic. A few months later, Chino Grande would open.
Chino Grande opened almost exactly a year before I was able to sit down and eat there. Such is the burden of a toddler. I had expected something of a wait given the good press the restaurant had received, but actually, we walked right in around 7pm on a Friday night and were immediately seated. (earlier in the week, I saw there was no shortages of reservations).
The restaurant founder is Josh Ku. He's also half the partnership behind Win Son and Win Son Bakery to East Williamsburg. That's partly why Chino Grande has enjoyed such good press, given the notoriety of that brand. I have a fondness for both since they happen to be just down the street from my apartment. Ku co-founded Win Son with Trigg Brown after the two met at a barbecue. The pair of restaurants sit catty-corner to each other, with the bakery's kitchen in a retail space that once housed the yoga and pilates studio where I attended classes.
Win Son helped usher in the era of upscale Taiwanese cuisine in the city. There's been a bit of a boom of Taiwanese restaurants with places like Wen Wen, 886, and Happy Stony Noodle. Chino Grande isn't purporting to be part of this trend, but it does play on pan-Asian inspiration. There are Latin American influences and Mediterranean touches as well, like the Calabrian chili sauce.
But thing setting Chino Grande apart from most restaurants is after 10pm it becomes a karaoke bar, modeled on the old joints on Atlantic Avenue in south Brooklyn. We weren't there to sing, only eat. Interestingly enough, my observation of the other diners there that evening included a few people more interested in drinking than eating, which maybe was a mistake on their part. The wine list was short, and while there was plenty of skin contact wines, nothing truly called out.
We started off with cocktails. I had a "Ni Haody!" made with Rye, Jujube, black walnut, and sweet vermouth – basically a Manhattan. My wife had a "Pocket Sage," made of lemon, gin, and Osmanthus tea.
Overall, the drink list was heavy on tequila and mezcal, but there was a selection of teas with tinctures based on traditional Chinese medicine. The flavor profile of the food lent itself to beer rather than wine. The selection primarily consists of local breweries. I had Grimm and Talea, two breweries within walking distance.
As is customary these days, the menu is intended for sharing, meaning the kitchen will send your food when they please. Don't expect a traditional formality, but the meal is structured. Lighter plates came first building up to the meat. The about a third of the menu included small plates, slightly larger small plates of proteins, and a selection of meat skewers. The skewers seem central to the mission somehow, but they were not quite as delicate as Japanese yakitori.
We did not order the fries, but the table next to us did. The plate looked as though it would have been filling had the rest of the meal been on the lighter side.
The first dish to appear was the parmesan potato croquettes topped with bright orange, smoked trout roe and sitting on chive oil and labneh. They were well-fried, crispy on the outside with a good interior consistency. The trout roe added color, but I'm not sure it was necessary.
I would of course eat these again, but it is hard not to like croquettes generally.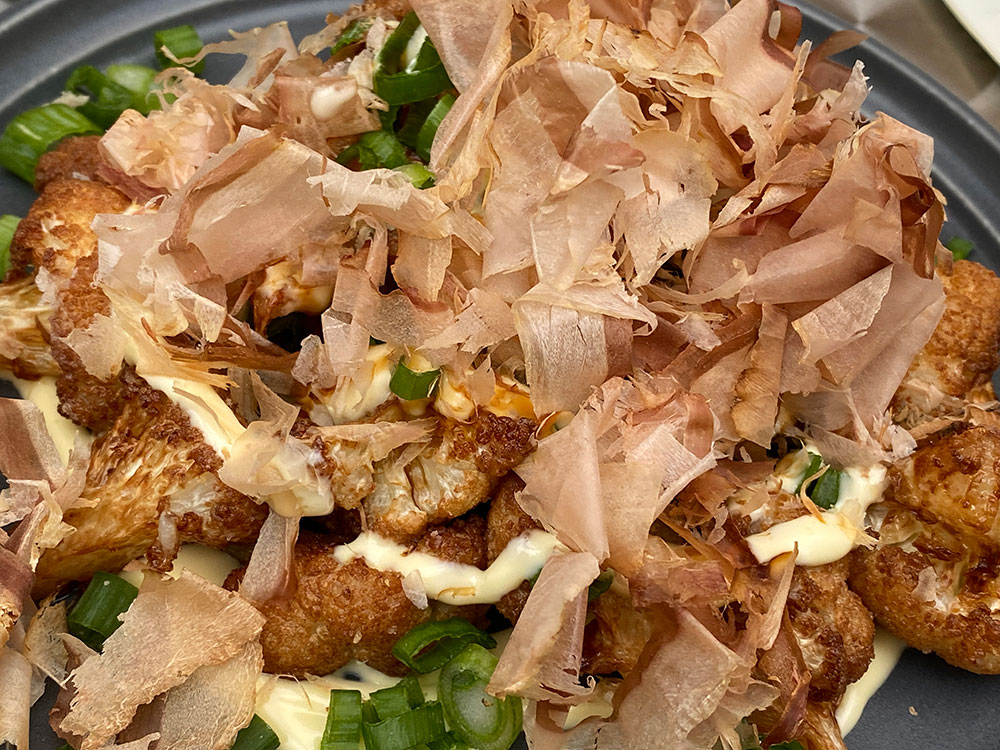 The cauliflower followed, topped with wavering bonito flakes. Whatever bonito they used was unusually good, more umami flavored than fishy, as I think some bonito flakes can taste. The soy paste added to the umami richness.
The cauliflower was not in anyway a lighter dish. It was filling, and heavy.
The sauteed mushrooms cooked in miso butter and topped with scallions and red chili paste was a standout. The chili paste reminded me of a Calabrian chili relish.
The mushrooms were a simple, but perfectly executed and full of savory flavors. It was good enough we were inspired to make a knock-off version the very next night at home. The simplicity of it meant we got close to spot on with our first attempt. It was vegan and gluten free, not that this mattered to either of us.
The meat skewers followed. The beef was tender and flavored with soy for an extra umami flavor. We wavered for a moment on whether we should order the beef tartare, and on a return trip I would probably order this instead of the skewers.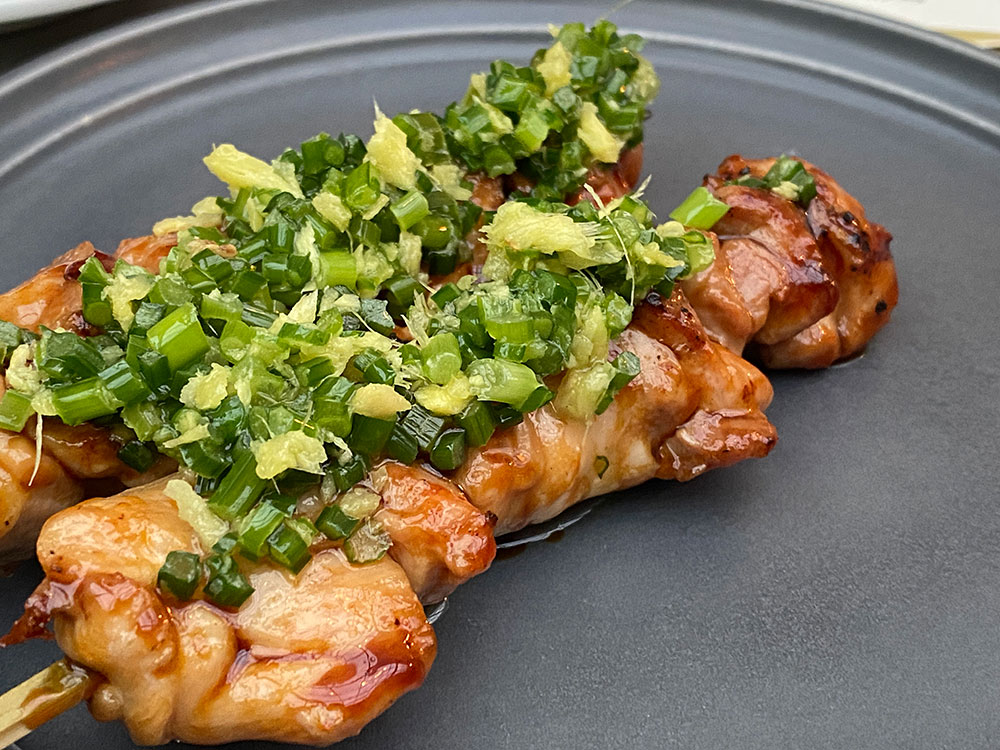 The chicken was topped with a green salsa made of chive and ginger adding a freshness to the well-cooked meat.
The final dish to come to the table was the pork collar with five spice au poivre sauce. The pork was another standout, and a reason to return. The meat arrived in an au jus that tasted like it had some miso. The peppery crust of the pork was full of flavor and the meat was tender.
We turned down the one dessert, a banana mis custard, since neither of us are big fans of banana. I did have a brief discourse with the waiter about the gros michel, the nearly extinct banana varietal that was popular in the 20th century, but with just the single dessert, we weren't really tempted.
Chino Grande has some solid dishes I'm still thinking about a day later. But while the food is good, an all around positive experience, it doesn't have the kind of magic Win Son has managed to capture. I would go back, but I wouldn't expect a revelation.
After dinner, we still had a few minutes left on the babysitter's clock, so we had drinks at Spuyten Duyvil, the beer bar where my wife and I met for the first time. It's more or less the same, but now the bar features a variety of Italian-style amaro.
---