By Ian MacAllen on Thursday, October 13th, 2022 at 4:19 pm
I don't often have a chance to eat lunch during the week. Back when people still went to midtown, I might get out to lunch a few times a year. There's nothing as decadent as eating lunch on a random Wednesday afternoon when most normal people are at work. But it's also a great time to accidentally find yourself at one of the hottest restaurants in the city.
My brother was about to start a new job. I just launched my own design and communications consulting firm. We both had a bit of flexibility in the interim period, and so we planned on a midday, midweek lunch.
I had let my brother choose the place. He'd been looking up restaurants in the city that served Malaysian food and suggested Kopitiam. He and his wife had lived in Singapore a few years ago, and with Malaysia was just across the Johor Strait, they'd had eaten quite a lot of Malaysian food while there. He was feeling nostalgic. Kopitiam isn't the only Malaysian-inspired restaurant in the city, but it was one he'd been meaning to eat at.
Kopitiam serves breakfast and lunch all day. The menu includes of mix of noodle and rice dishes, with an emphasis on the Malaysian breakfast offerings.
I had walked by the place over the summer and took note of the long line of people lingering outside of the front door — that was a Saturday afternoon and I was pushing a baby stroller, so I kept on walking. I hadn't realized at the time, or even until I sat down, that Kopitiam had something of a moment over the last few years ranking 6th on Bon appétit's NYC100 and Eater's Best New Restaurants in America, 2019.
The restaurant is located in what had been one of my favorite areas to spend time. That was before the pandemic, before the baby. South of the Williamsburg Bridge has been slower to gentrify, or at least it felt that way — it wasn't really true, just a myth we told ourselves. Plenty of upscale places were moving in, like Mission Chinese, which opened across from Seward Park back in 2014. The bars like Beverly's and Clockwork were a bit more like dive bars than the fancy clubs on Rivington, but no less were they interlopers.
At the risk of encouraging the creeping expansion of invented neighborhoods, I would describe Kopitiam's location as "just off Dimes Square," the triangle at Canal Street and Ludlow known for attractive rich kids. Just around the corner is Kopitiam on East Broadway at the intersection of Chinatown and the Lower East Side.
I arrived early and waited on the street to watch the passing people. Next door to the restaurant was a grocery stand where shoppers bought bok choy organized by sizes ranging from petite to large, and fresh watercress by the bunch. The autumn afternoon had warmed up since I left the house, and I regretted the sweater. I kept expecting a rush of people showing up at the restaurant, something closer to what I had seen on that Saturday over the summer.
The cafe had a small outdoor dining area I was certain was about to fill up at any minute. A couple sat at one of the six tables. Then finally my brother arrived. There was still plenty of seats.
We looked over the menu briefly and decided just to share a few things. We probably could have polished off the whole menu with one two or three more people in our party and a willingness to overstuff ourselves. We decided to keep things more reasonable.
The one dish I was insistent we try are the curry puffs. I know curry puffs in general are not exactly haute cuisine, but I can't resist them. They typically check a lot of boxes: pastry pocket filled with some tasty. There's a reason "Hot Pocket" brand was so successful.
The category of curry puff is quite broad and they appear in cuisines across India and across the Southeast Asia. The exact origins are ambiguous, but likely date from the colonial period. Fillings vary by point of origin. Pockets of pastry filled with deliciousness are common from the era, like empanadas from Portugal, pasty from Britain, and samosa from India. Which culture influenced the creation of which pastry is debatable.
Kopitiam's curry puffs were quite unique in flavor, and the filling was far more liquid than most I've had. My first thought was the filling had chickpeas crushed into it or maybe just a more generic dal. It was both surprising and satisfactory. The pastry was thick enough to hold together, but still flaky.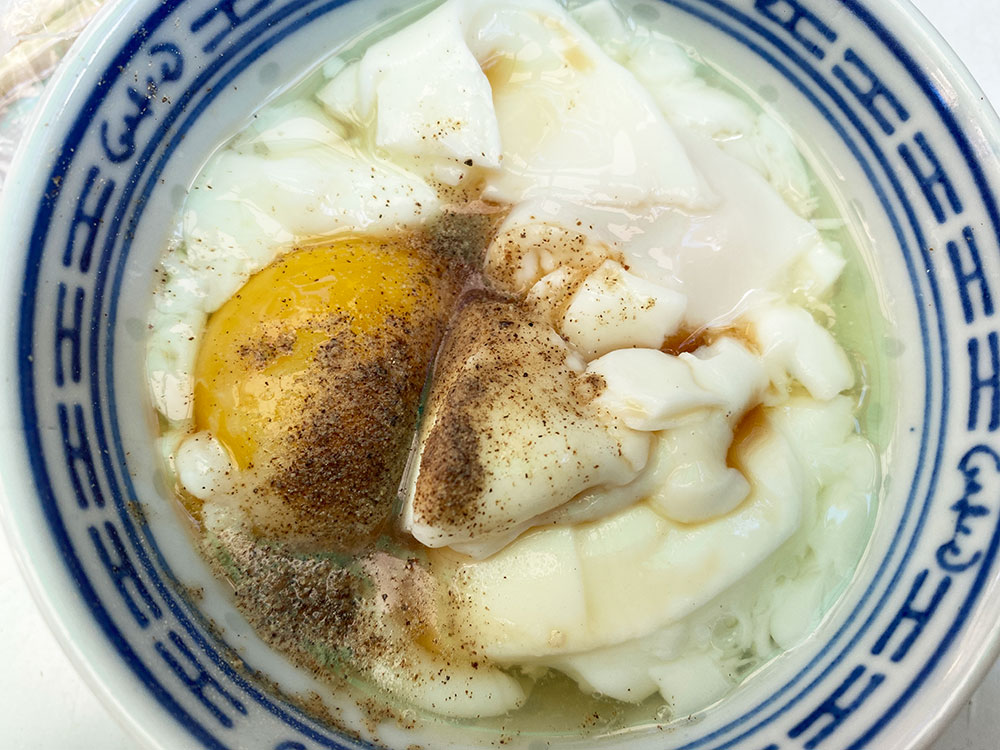 The half-boiled eggs were difficult to share since both eggs were in a single bowl. The seasoning was very good, peppery, and the yolks were a beautifully cooked and runny. The consistency was like cream. We probably should have done a better job of stirring it all up. I dipped a bit of kaya toast in the egg, but I felt like a bit trashy doing that.
The kaya toast is something of a highlight on the menu, and a traditional food found in Malaysian and Singapore. The filling is kaya jam, a curd made from coconut milk and sugar and eggs. The green color is an infusion of pandan leaves, a bright green plant with a nutty flavor. I'm usually hesitant about coconut-flavor, but whether it was the addition of the pandan infusion or the volume of sugar, the jam wasn't over powering with it.
Pandan is also an important part of pandan chicken. It was the one one dish I saw recommended on the internet which I found on my phone while waiting for my brother to arrive.
The chicken is turned into a kind of squarish meatball from minced chicken and wrapped tightly with pandan leaves before its cooked. The leaves are to be removed before eating, leaving dense chunks of meat. They were greasy in the best kind of way, full of fatty flavor. There was a dipping sauce that came with it too, a kind of sweet and sour sauce that counterbalanced the umami of the chicken.
Finally we had our noodle dish come to the table, the Char Kway Teow. The flat rice noodles are mixed together were some pieces of sausage and little tiny shrimp, along with bean sprouts in a kind of stir fry. The flavor was rich and savory.
A hand written sign had advertised the Char Kway Teow as the daily special, but it does seem to be at least a seasonal special for the fall of 2022 menu.
We washed everything down with chrysanthemum and lychee sodas, a little sweet treat. I would go back again and eat through the entire menu. The food was spot on, and many flavors and textures that aren't easy to find even in New York's diverse restaurant scene. I'll just have to find another midday lunch.
---