By Ian MacAllen on Wednesday, July 19th, 2023 at 3:33 am
On our second night in Chicago, the wildfire smoke had started overtaking the city. The rich haze had turned everything pale orange and halos formed around the street lights. We headed out to Chinatown to eat some dumplings.
Chinese business people first arrived in Chicago in beginning in the 1870s. These were mainly merchants and professionals setting up grocery stores and restaurants. They settled first in an area around Van Buren and Clark Streets. As the Transcontinental Railroad construction was completed, a laborer class of Chinese immigrants headed east and arrived in the city as well.
The population of Chicago grew rapidly between 1880 and 1890, and soon the Chinese were being priced out of the Loop, the center part of the city.
The famous Chicago World's Fair of 1893 also brought with it much of the modern world, like hot dogs, Ferris Wheels, and Wrigley's gum. But it also brought a lot of racism, and anti-Chinese sentiment.
In 1912, the Chinese business community bought up a large tract of land and moved the neighborhood two miles south to it's current location.
Today, the Chicago Red Line has a station serving the area known as Cermak-Chinatown. The portion is elevated and we rode out just before dusk as the air was turning bright orange from the wildfire smoke.
Modern Chinatown seemingly has two centers– a commercial strip along a few blocks of South Wentworth Avenue, and Chinatown Square, a 45 acre, two-story outdoor mall built in 1993. The mall intersects the commercial district adjacent to the Red Line station.
The mall was on reclaimed railroad land. It's filled with pan-Asian restaurants as well as tourist trinket shops. I was hoping for some postcards but didn't find any.
We arrived in Chinatown fairly late by Chicago standards. Qing Xiang Yuan Dumplings was set to close at 9pm, and we had about an hour to grab a table. QXY Dumplings is known for serving up fresh soup dumplings and has something of a following in Chicago.
The restaurant had a line of people waiting. I quickly checked in using their digital hostess, a way of adding myself to the list remotely had I knew I could. We grabbed a table pretty quickly anyway because we were simply standing there.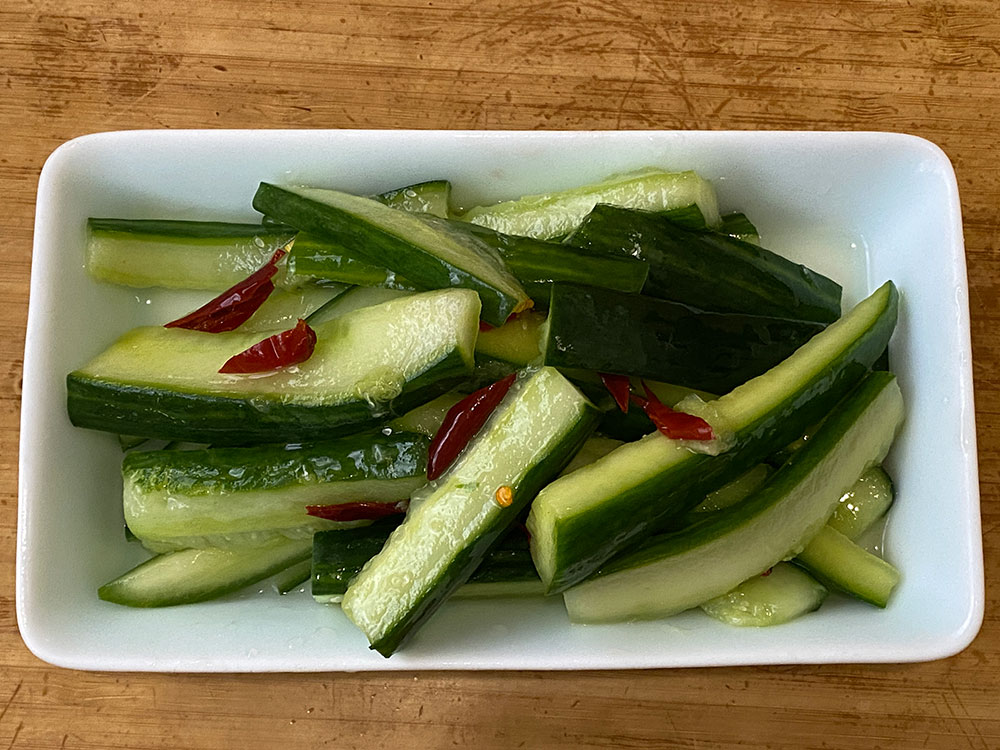 We started with a cucumber salad. We had been in the midwest long enough by this point that we really were craving some vegetables. Despite the salad-topped-hot dogs, we had mostly been eating meat and cheese curds.
The cucumber salad was a sweet with a syrupy dressing. There were a few slices of peppers, seeds removed, for heat. It was simply made, but a refreshing start.
The dumplings are all soup dumplings with a wide range of fillings. I would need several trips to eat my way through the whole list, and disappointingly they only were served in plates of 12. I asked about a sampler plate, but there was no such option.
Two days earlier we had been at a wedding eating lamb raised in the very field we were eating it. I will never have fresher lamb meat, but nevertheless we ordered the lamb dumplings.
We ordered these steamed, filled with lamb and dill. The dumplings were soupy with a strong dill flavor and a very thin wrapper.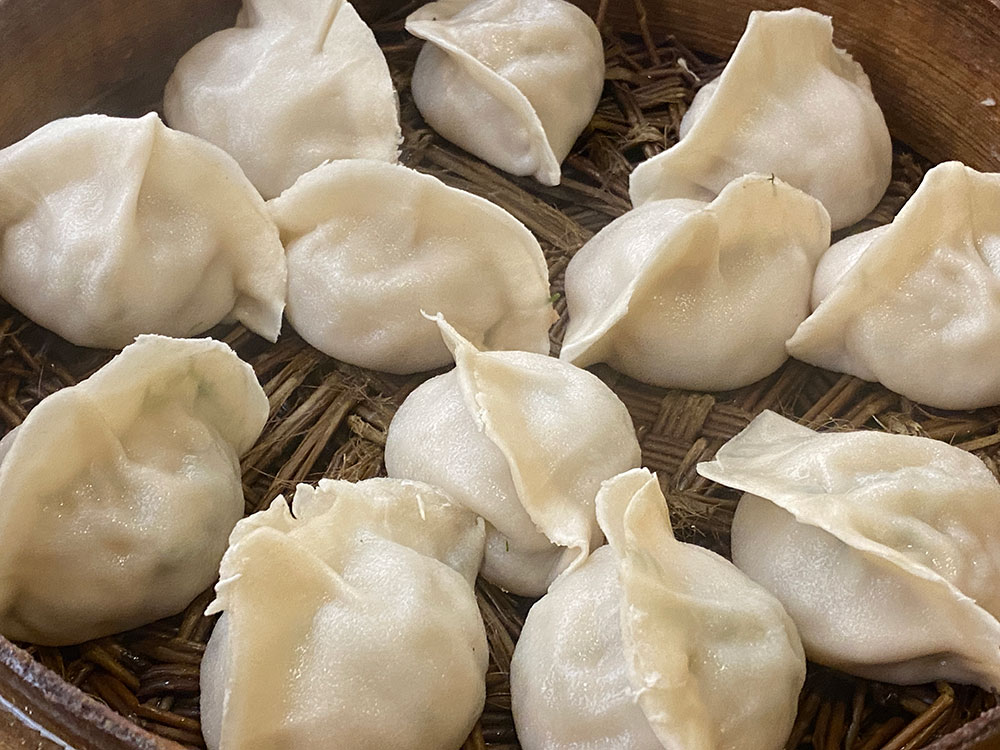 We ordered beef and coriander dumplings also as steamed. I'll admit, I didn't realize they were stacked underneath the first bamboo steam basket until we were halfway through eating the lamb.
While the steamed dumplings appeared to be the preferred way of eating them, I wanted to try fired dumplings to. For these we went with the pork. They came out looking as though they were covered in lace. These were delicate and tasted much like any other pork dumpling but with a splashy, soupy surprise.
And just because, we also ordered the meat skewers. Look, I like meat on a stick and even if I'm in a dumpling shop, I'm probably going to order the meat on a stick.
I wasn't sorry either. These were delicious and smoky from the grill with a nice spicy heat to them. The meat was tender, and came off the stick easily. They were easily my favorite item here.
Just in case you want some more dumpling photos:
After the meal, we decided to walk around the mall checking out the shops — mostly restaurants. I had a nose bleed probably brought on by the wildfire smoke. We peaked at a few of the trinket shops selling everything from miniatures of The Bean to Chinese ceramic tea sets.
We also walked down South Wentworth looking in some of the shops, some old, some new, and saw plenty of other restaurants we would want to check out the next time we were in Chicago. By comparison to New York's Chinatown, it all felt rather petite with fewer people and more tourists. We embraced our tourist status and posed for a few pictures in front of the Chinatown Gate.
QXY Dumplings
2002 S Wentworth Ave #103, Chicago
Website
---