By Ian MacAllen on Sunday, July 2nd, 2023 at 4:52 pm
We rode the Chicago subway "L" out into the suburbs of northern Chicago to find the Loba Pastry Shop. We had gotten the recommendation at a wedding from a guy my wife met on the drink line. Lottie + Doof, who my wife follows on instagram.
My first impression walking into the shop was that we'd stepped out of Chicago into a cafe in Reykjavik or Copenhagen. The tables were light wood and the whole shop bright white. An enormous window in the back revealed the industrial part of this bakery shop, now sitting quiet.
The shop was busy for 11am on a weekday. No laptops, but lots of quiet conversations. I grabbed a table while my wife ordered. There were locals who chatted with the clerks, and a tourists, like us, and the elderly British couple visiting their grandchildren.
I was surprised to find all but three items were sold out. The guy sitting next to us had a half-eaten croissant, so we had only just missed the savory pastry. What remained was a rhubarb donut, a pineapple muffin and a sesame emmie.
Sweet pink icing topped the rhubarb donut, with a dash of sugar syrup and pieces of rhubarb as garnish. It was sweet, and just slightly tart. The pineapple muffin was like a small loaf of dense, moist pound cake. These were all very good bakes but I did continue staring at the croissant on the plate of the guy next to me.
However, the real star of the show was the sesame Emmie. It had the shape of a spiral bundt cake. The exterior was very crispy and speckled with sesame seeds. When I flipped it over, the caramelized bottom was covered in seeds and crisp.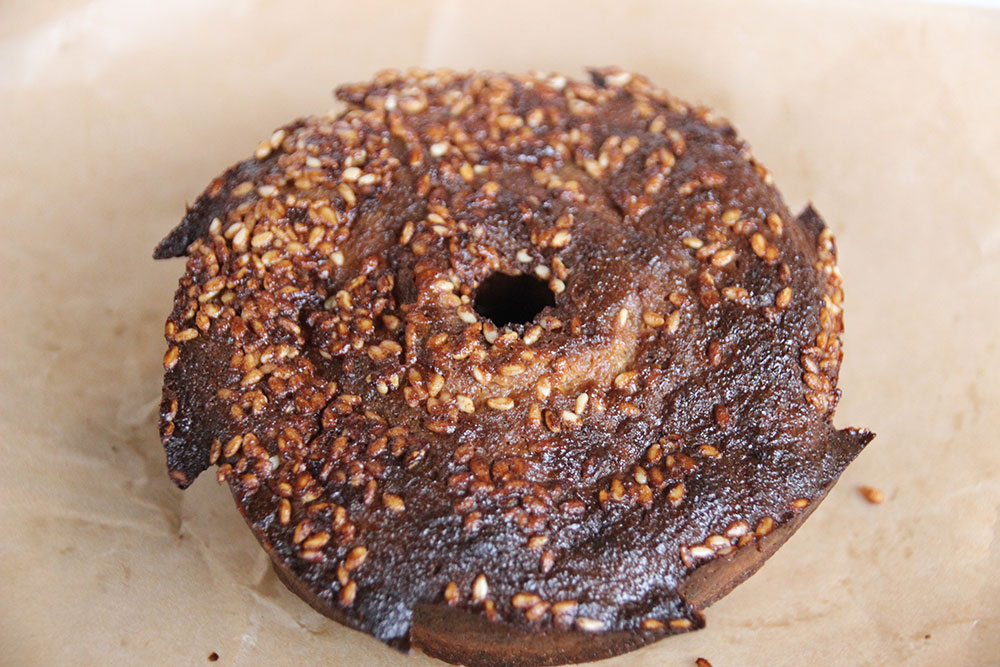 All of that crispy texture hid a secret: a delicately soft interior, with the texture of bread pudding. The flavors were spot on with just a hint of sweetness on the inside balanced with the savory sesame.
It was so good I went back to order a second one.
Check out Loba Pastry + Coffee online.
---