By Ian MacAllen on Friday, November 19th, 2021 at 10:14 pm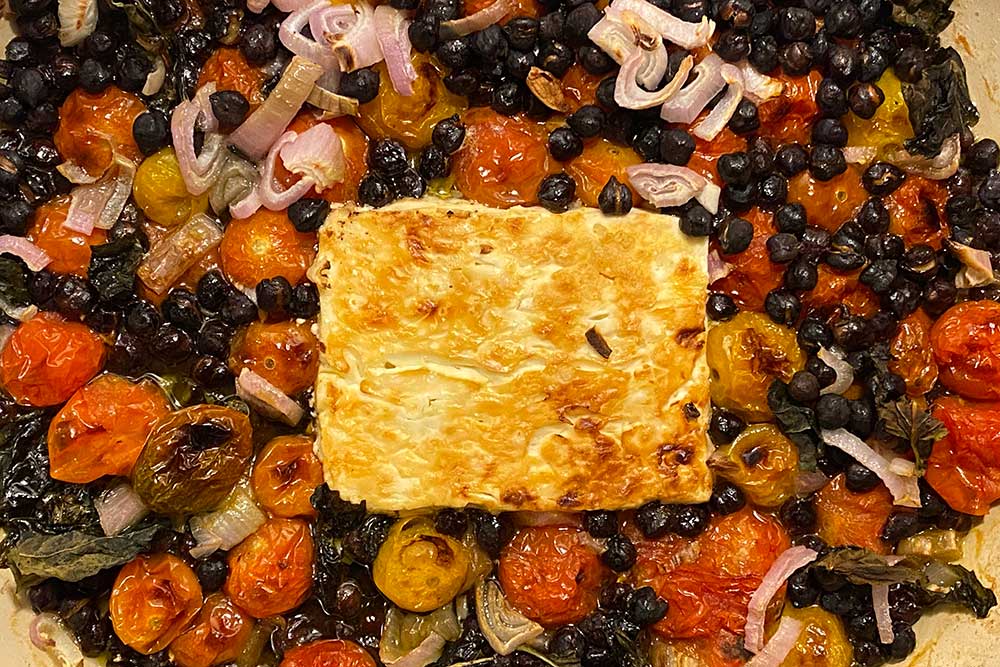 Tossing feta with tomatoes isn't exactly a new concept, but baking it together became a popular life hack thanks to TikTok. We didn't make that. Instead, we baked ours with black chickpeas from Rancho Gordo following a Smitten Kitchen variation.
Way back in 2018 Finnish blogger Tiiu Piret posted a recipe for her baked pasta combining feta, tomatoes, onion, and honey before tossing with spaghetti. Nobody really paid much attention.
Then in February of 2019, Finnish video blogger Jenni Hayrinen posted her version of the uunifetapasta, the baked pasta. She baked a block of feta cheese with cherry-sized tomatoes and also tossed it with spaghetti. Besides loving spaghetti, the Finnish people also loved her recipe. Stores sold out of feta cheese. Despite its popularity, it remained a relatively unknown in the United States.
Then MacKenzie Smith posted a version to TikTok in June of 2019. The concept is simple: toss tomatoes and olive oil in a baking dish; add a block of feta to the center of the pan; add some red pepper; bake it; break up the melted cheese into a sauce and add pasta. She tossed it with rotini, a shape more suited to holding the sauce to the pasta. I'm not saying her pasta shape choice had anything to do with it, but six months later she had more than 3m views. Imitators followed, and the copy and re-mix nature of TikTok encouraged more versions with tens of millions of views of posts using the hashtag #bakedfetapasta.
The dish is simple to make, but also pretty to watch on TikTok. It proved such a hit that by January 2020, there were feta cheese shortages with people buying it all up so they could make their own baked feta, and this was long before "supply chain" problems were leaving shelves empty of basic foods.
Thursday night rolled around and my wife and I were both exhausted. I had handed in the final proofs for Red Sauce earlier that week, and I had a late night boozing it up with neighborhood dads in celebration. Well, only one was a neighborhood dad, the other is our neighborhood friend who lives upstairs from us. But you get the idea.
Anyway, my wife was working a lot and I was working a lot. We had our box of Rancho Gordo beans. We wanted a one-pot solution to our dinner problem.
Deb Perelman, aka Smitten Kitchen, doesn't like combining feta and pasta, so she invented her own version of the viral baked pasta, sans pasta. This version includes chickpeas in the one-pot bake. The beans are a substitute for the pasta, and with the addition of nice loaf of bread, is a fulfilling vegetarian meal that feels like an old world Mediterranean dish.
Okay, so its actually two pots if you count the fact that the chickpeas had to be cooked before they were put into the baking dish with the feta. Most people would just open a can of chickpeas, making this an easy meal to prep, but we're overachievers.
The Rancho Gordo bean box had arrived with black chickpeas. The Black Garbanzo bean, aka the notorious Ceci Neri, is an heirloom chickpea from Italy. Rancho Gordo suggests salads, soups, stews casseroles, curries and pasta e fagioli (pasta fazool, if you are speaking with a north Jersey accent). The Ceci Neri is rare. Currently you can order some from Rancho Gordo, but they sell out fast.
These cooked down in their bean pot for a while, a bit longer than we expected really. The skins really are thicker than regular chick peas, and that might have something to do with it. Once they were cooked, we were ready to start our one-pot meal.
My wife tossed everything into the pot while I took baby for a walk. Although I didn't cook, I did buy baby a butternut squash which he proceeded to lick. That's not how you eat a butternut squash, baby.
Anyway, the baked feta came out of the oven looking beautifully golden. We served the pan right on the table and sliced up some bread to soak up the oil. It wasn't the first time my wife baked up this feta, but I had always assumed it came out of a cookbook rather than evolving from a viral TikTok. Either way, Deb Perelman is totally right: this doesn't need pasta.
And here is the baked feta with a rustic wooden spoon for scale.
---