By Ian MacAllen on Monday, November 14th, 2022 at 3:19 am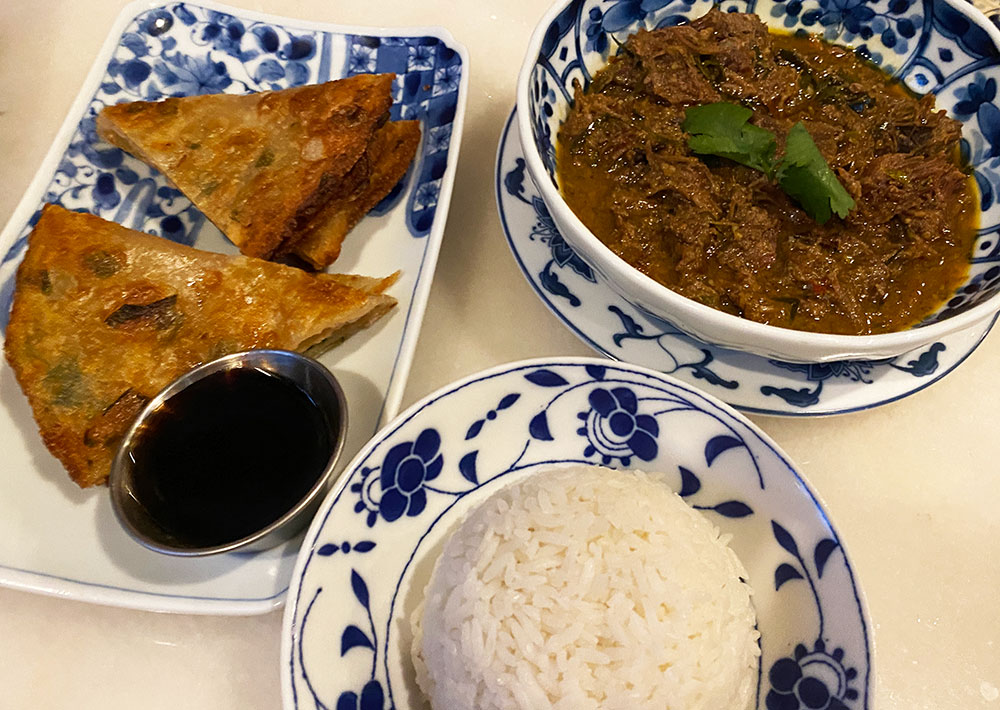 The original Fishmarket, located just off the South Street Seaport promenade, is a combination of dive bar, sports bar, and restaurant serving both typical bar food and a menu of selected Malaysian dishes. It's probably the best bar south of the Brooklyn Bridge.
I would say Fishmarket is lower Manhattan's best kept secret, but it's not actually much of a secret anymore. Most nights before the pandemic, the place was filled up with a cross section of the city. Besides the great food and cheap drinks, the owner will come around and do shots of whiskey with everyone. How he has survived this long is beyond me.
I don't usually end up in the financial district, but I've been there a few times. One weekend afternoon shortly before the pandemic I brought my wife there for the first time. We stuffed ourselves and drank a lot and then did some shots of whiskey a few times and stumbled out before it was evening dark.
Then I heard Fishmarket was opening up in the East Village. The outpost is a few blocks from the L train, making it more convenient for me.
Fishmarket II is an offshoot of the original that opened on Avenue A just north of Tompkins Square Park a few months back. The interior is a little fancier than the South Street location with exposed brick and the sort of tile work one might find in an upscale luxury hotel.
The tables are set with dishes and silverware, suggesting the setting is more for eating than for drinking, but there's a big bar and the televisions are set to sports. Don't let that dissuade you, the food is good.
This November has been unseasonably warm, and since it was in the high 60s and sunny, my wife and I walked into Manhattan for no reason in particular other than the baby needed to leave the house. We had a vague thought of grabbing something to eat, but had no particular destination in mind. We considered Trapizzino, a Roman street food place that closed and then reopened, as well as Super Taste, the Chinatown dumpling shop.
We crossed the bridge. The Lower East Side was hopping. The clubs were getting ready. We pushed onward toward SoHo contemplating lunch options, and then stopped at a playground on the corner of Spring and Mulberry where my wife had played as a kid. Any new playground is a bit of an adventure for the baby because every single one is different.
SoHo was crowded like the Short Hills Mall, so we decided to get out of there as soon as we could. Where to eat? We ended up wandering around the East Village when I remembered Fishmarket had the new location.
When we arrived, the place was empty. We grabbed a table in the front where the winter afternoon sun had already started to fade. I was surprised, but the bar tender brought out a high chair for the little guy, and we set him up with his latest addiction, repeat episodes of Baby Shark. If you know, you know.
My wife and I looked over the menu. There are a lot more Malaysian dishes than had been offered at the original location where the menu had focused on typical bar food.
We started off with some small plates — shishito peppers, shrimp puffs, dumplings, and scallion pancakes. We ordered baby some French fries. He's a much better dinner companion now that he'll have a fried potato.
The blistered shishito peppers were a great way to start things off. Even though they are everywhere now, the dipping sauce at Fishmarket was a nice addition. They were seared perfectly.
I know shishito peppers showed up out of nowhere one day and now they are on every appetizer menu. So what? They came out first, hot and slightly charred.
We had considered stopping for dumplings at Super Taste under the Manhattan Bridge, so obviously had to fulfill our craving. Fishmarket's dumplings are just as good or better, lightly fried on one side and served with a delightful dumpling sauce.
The shrimp puffs actually tasted like shrimp and the texture of the shrimp was good too. The sweet dipping sauce was pretty standard. I always like a shrimp puff and these are close to perfection — but there's nothing especially innovative here. Well cooked and full of flavor, but pass on them if you want to experiment.
Scallion pancakes are always a favorite, too, and there are plenty of good examples just about everywhere.
I said, "we should learn how to make our own." It's true. I always think of them as overly complicated. I literally have two bunches of scallions in my refrigerator right now.
The real treat are the entrees. My wife and I debated a bit on this. I wanted the curried chicken, which I've had at South Street and thought was delightful. We settled on the beef Rendang (pictured at the top) and ginger chicken wings.

The chicken wings are served with a hot sauce. The baby even tried one of these, although he was happier with the french fries.
On our next trip here, I'd definitely want a rice or noodle dish. My brother and sister-in-law ate here a few weeks earlier and happily reported the curried chicken was still good. The bottom line is I've not been disappointed with anything from this menu before, and there are a lot more things to sample from now.
Before we left, the bar tender came around with shots of sake — probably less likely to leave us hung over than the shots of whiskey.
As I said already, the food is excellent. But Fishmarket II is so far now a hidden gem without any lines. That should change.
---